O piesa inregistrata de Miley Cyrus in urma cu un a scapat online! Last Goodbye ar putea fi cea mai personala melodie cantata de ea pana acum!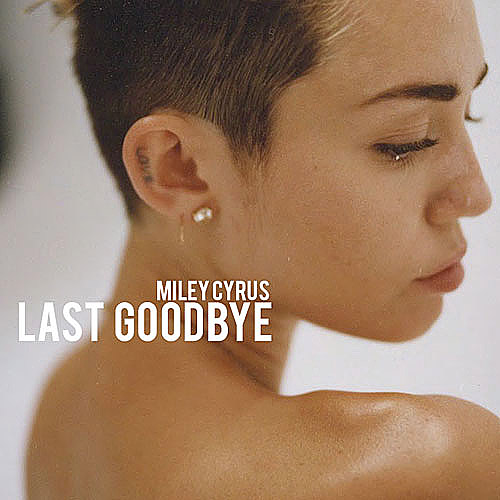 Miley Cyrus isi canta durerea ceva mai explicit in "Last Goodbye", un track ce nu a intrat pe albumul BANGERZ insa vorbeste despre emotie pura, despre durerea unei inimi ranite si o relatie aflata la final. In cazul fostei Hannah Montana e vorba despre fostul ei logodnic – Liam Hemsworth. 
Piesa a fost inregistrata in luna iunie 2013, cu cateva luni inainte de despartirea oficiala a cuplului iar refrenul e plin de emotie: " We never said that we would be perfect, We only said that we tried And when you said that we were forever I guess that's just another lie."
Asculta mai jos piesa nelansata si verifica si versurile in caz ca vrei sa fredonezi alaturi de ea!
We never said that we would be perfect
We only said that we tried
And when you said that we were forever
I guess that's just another lie
Let me slip right through your fingers
I hope you know it's real this time, yeah
To know that I said I'd never come home for a last goodbye
I don't wanna let you go if you still love me
Cause I don't wanna see you cry, yeah
But it feels like you and I are dying
And there's no one that can save our lives
And I know we're sick and tired of fighting
Sick and tired of being sick and tired, yeah
But I know that you're gonna want me
To come home for a last goodbye-ye-ye, oh oh oh
Bye-ye-ye, oh oh ohLying in the dark with you against me
I can't even open my eyes
Cause the pain is always a pleasure
Don't think I can take another night
How has my best friend became such a stranger
It seemed like everything was fine
We've already been through this twice and I'm never
Coming home for a last goodbye
I don't wanna let you go if you still love me
Cause I don't wanna see you cry, yeah
But it feels like you and I are dying
And there's no one that can save our lives
And I know we're sick and tired of fighting
Sick and tired of being sick and tired, yeah
But I know that you're gonna want me
To come home for a last goodbye-ye-ye, oh oh oh
Bye-ye-ye, oh oh oh
Ohoh, ohohoho, yeah
I don't wanna let you go if you still love me
Cause I don't wanna see you cry, yeah
But it feels like you and I are dying
And there's no one that can save our lives
And I know we're sick and tired of fighting
Sick and tired of being sick and tired, yeah
But I know that you're gonna want me
To come home for a last goodbye-ye-ye, oh oh oh
Bye-ye-ye, oh oh ohYou let me down, I gave you up
I took you back, I guess I can't blame ya for this
When I told myself I'd never say that last goodbye
Never say
Last goodbye
(Sursa Urban.ro)